Guide within this facility
Guide within this facility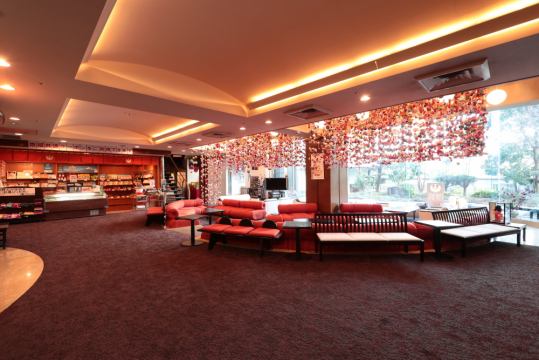 Information on this facility that you can use easily
None None(large banquet hall)

【Number of people】 Up to 50 people

None None(medium banquet hall)

【Number of people】 Up to 20 people

Restaurant Otori(Private room available)

【Number of people】 7 seats 32 people

Main conference room

【Capacity】80 people
■9: 00-12: 00
14,520 yen
■13:00 to 17:00
18,150 yen
■18:00 to 21:00
18,150 yen
■9: 00-17: 00
27,830 yen
■13:00 to 21:00
31,460 yen
■9: 00-21: 00
42,350 yen


kids room

Open Hours:From 14:00 to 18:00

shop

Izu · Izu Nagaoka special products and fashionable items of travel are available at the shop.
Please go to a souvenir of your trip.
For those who wish, delivery is also accepted.

Coffee

Sit back on your lounge sofa and spend your time relaxing with coffee before you leave to relax after your arrival.
Number of rooms,Capacity

25 rooms in total:2 Western-style rooms/19 Japanese-style rooms/4 Japanese + Western style rooms
Japanese+Western room layout:2 suites(80㎡),1 special room, 1 Japanese + Western style room
Western-style breakdown: 2 twin rooms (24 m²)
Capacity:100 people

Room supplement

All guest rooms at our facility are non-smoking.
 ※If you smoke in the room, you will be charged 30,000 yen as a cleaning fee.


Standard room facilities

Some rooms Bathroom / All rooms Air-conditioning / Television / Empty refrigerator

Internet related

All rooms compatible
[Connection method]Wireless LAN
[PC rental]No
[Internet connection]Free

Amenities

Hand towel/Toothbrush / Toothpaste/bath towel/shampoo/rinse/Body soap/yukata/Hairdryer/Duvet/Shaving/shower toilet/shower cap/swab/Comb / Brush

Facility content

No smoking inside the facility
※Please use electronic cigarettes in the smoking room inside the facility, and paper cigarettes in the smoking area outside.

Service & Leisure (Including arrangements)

Massage(For a charge)/Golf(For a charge)/Shogi(For a charge)/Game of go(For a charge)/Mahjong(For a charge)

Credit cards available locally

JCB / Visa / DC

Standard check-in time

14:00

Standard checkout time

10:00

Supplement for amenities

Cribs and baby chairs(Rental)

barrier-free compatible

Wheelchair slope in front of entrance / wheelchair rental / handrail on large public bath / in-facility wheelchair in this facility without assistance / use of elevator during floor movement / Emergency use Facilities in this facility / preferential space for parking lot / wheelchair Corresponding shared toilet

Onsen tax

Hotspring tax adult 150 yen (child free) separately.

Cancellation provisions

6 to 4 days ago:10% of room rate
3 to 2 days before:30% of room rate
The day before:50% of room rate
On the day of arrival:100% of room rate
Non-night without contact:100% of room rate
※If there is a cancellation rule setting for each accommodation plan, that will be given priority.
Hot Springs

Izu Nagaoka Onsen

Large communal bath with open-air bath

There(There are both men and women, and there is a time shift)

Family family bath

can be.
55 minutes per session, 3,500 yen. (Tax included)


Number of baths

"Outdoor bath] Man: 1 Female: 1 mixed bath: 0
[Inner bath] Man: 1 Female: 1 mixed bath: 0
[sauna] Man: 0 Female: 0 Bathing: 0

Bath Terms of Use

[Bath time] 14:00 to 24:00/From 5:00 to 9:00(Gender exchanging system)